AAUW's Mission, Vision and Values
AAUW advances gender equality for women and girls through research, education, and advocacy.
The AAUW vision is equity for all.
AAUW Values: Nonpartisan: Fact-based; Integrity; Inclusion and Intersectionality. A nonpartisan, nonprofit organization, AAUW has more than 170,000 members and supporters across the United States, as well as 1,000 local branches and over 800 college and university partners. Throughout its history, AAUW members have examined and taken positions on the fundamental issues of the day – educational, social, economic, and political. AAUW Greater Naples Branch is one of the most active in the state of Florida, with an engaged membership of over 100 and growing.
---
PRESIDENT'S MESSAGE
DECEMBER BRANCH MEETING
We look forward to the holiday season, which promises to be like none other we have experienced. As a popular song suggests. "It's the Most Wonderful Time of the Year!" And in that spirit, we invite you to celebrate your holiday traditions, stories, recipes, songs, poems, and special wishes at our December 5th Branch Meeting. The gifts you share will usher us toward a spirit of connection, peace and love…. which is something we can all appreciate and welcome at this extraordinary time. Please keep an eye out for a special invitation to this virtual celebration!

Please try to join us … we are hoping to fill the Zoom Gallery with as many of our branch members as we can. Here is the zoom link for the holiday celebration:
https://us02web.zoom.us/j/84753521483?pwd=V0VGbmwrVCtMQVRVRGJOdE9PM2g5UT09
Looking forward to seeing you on Saturday, December 5th !!
---
Items of Interest
50 YEAR AAUW HONORARY MEMBERSHIP AWARDED
Congratulations, Maryanna!
A wonderful and well-earned honor!
Congratulations to Maryanna Crawford who was awarded her 50-year Honorary Membership with AAUW.
Maryanna joined AAUW in 1970 in Staten Island NY and continues to be an active member with our AAUW GNB.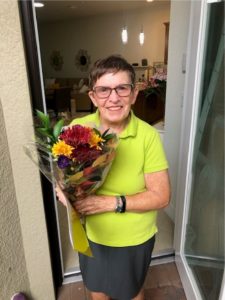 Maryanna Crawford, 50-year Honorary Membership AAUW
---
AAUW Greater Naples Branch Received Two 2020 Awards from AAUW Florida
The first award is for increased membership. Our Branch had a renewal rate of 110%! Congratulations to Membership Director Elaine Wade and the entire Membership Committee! The second award is the Shooting Star Award, for the Branch's support of Tech Trek with contributions per member exceeding the prior year. Congratulations to every member of the Branch for your continued commitment to AAUW's mission!
---