AAUW's Mission, Vision and Values
AAUW advances gender equality for women and girls through research, education, and advocacy.
The AAUW vision is equity for all.
AAUW Values: Nonpartisan: Fact-based; Integrity; Inclusion and Intersectionality. A nonpartisan, nonprofit organization, AAUW has more than 170,000 members and supporters across the United States, as well as 1,000 local branches and over 800 college and university partners. Throughout its history, AAUW members have examined and taken positions on the fundamental issues of the day – educational, social, economic, and political. AAUW Greater Naples Branch is one of the most active in the state of Florida, with an engaged membership of over 100 and growing.
---
SAVE THE DATE!!
AAUW GREATER NAPLES BRANCH
HOLIDAY LUNCHEON
AND AUCTION
SATURDAY, DECEMBER 2, 2023
HERITAGE BAY GOLF AND COUNTRY CLUB
PLEASE CONSIDER
DONATING YOUR TIME, TALENTS, GENTLY USED
OR REGIFTED ITEMS,
OR PATRON SERVICES FOR OUR AUCTION.
CONTACT ELAINE WADE
---
December President's Message
LET THERE BE PEACE ON EARTH AND LET IT BEGIN WITH ME!!
It seems that this refrain has never been more appropriate than it is today. We sing this song at our Holiday Luncheon to be unified in our wishes for one another and for the world at this inimitable time of the year. And we hope that it will last throughout the year to come.
Along with our desire for peace is the desire to continue our lives without interruption and confusion, so that we can be productive and carry on good works in the future. The AAUW Greater Naples Branch members have shown that in spite of the setbacks and interference of our daily lives, we are willing to support the efforts of our fellow Branch members for the greater good.
And so, I wish you peace in this holiday season so that you may enjoy the accomplishments of the past year that have happened BECAUSE of YOU, and I look forward to working with you in the year to come.
---

AAUW Greater Naples Branch Will Serve another 250 Local 5th-Grade Girls through its
27th Annual STEAM Girls Count Program in 2024!
This program is designed to inspire girls to pursue education and careers in science, technology, engineering, and mathematics, and to teach them that the arts are part of, and not apart from STEM.
The Greater Naples AAUW Charitable Foundation, Inc. supports the program, which includes delivery to 5th-grade girls at Collier County Public Schools and New Horizons of:
• Two STEAM project kits/experiments to complete at home
• The book, Girls Think of Everything, written and signed by Catherine Thimmesh, about women scientists and inventors; and
• Access to professionally produced videos of local women in STEAM careers, and videos of local women pursuing degrees in STEM fields, together with their biographies; and
• Safety goggles and feedback forms, all packed into reusable tote bags
95% of the girls responding said that the STEAM Girls Count Program inspired them to want to learn more about STEAM (Science, Technology, Engineering, Arts, and Math) and STEAM careers.
To volunteer, contact Carol Siwinski
We are very excited to recognize our generous new donors to the 2024 program, Suncoast Credit Union, the Hyman Family Foundation, and Engel & Völkers! We thank them and our generous recurring donors Arthrex, Florida Gulf Coast University, and Collier County Public Schools. Without their support, this program would not be possible.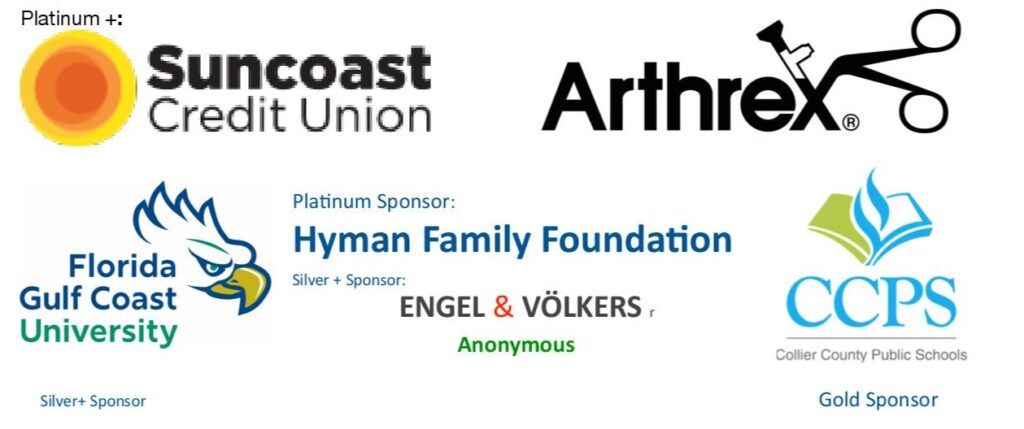 Click here read more
---

The AAUW Greater Naples Branch and the Greater Naples AAUW Charitable Foundation, Inc. Congratulate the 2023 Scholarship Recipients!
Since its creation by members of the AAUW Greater Naples Branch in 2001, the Greater Naples AAUW Charitable Foundation, Inc. ("Foundation") has annually awarded academic scholarships to deserving local women upon the recommendations of the Scholarship Committee. The amazing women awarded scholarships in 2023 are:
BYLINDA BRUNY – STEM SCHOLARSHIP
PEYTON DAVIDSON – JEANNINE STETSON TRIBUTE SCHOLARSHIP
EMMA DISARRO – McMAHON FOUNDATION STEM SCHOLARSHIP
EMMA FERNANDEZ – McMAHON FOUNDATION SCHOLARSHIP FOR AN ADULT WOMAN
CESSIA FLORES-ELWIN – STEM SCHOLARSHIP
VIOLETA GIRA – DELLATORÉ REAL ESTATE COMPANY SCHOLARSHIP FOR AN ADULT WOMAN
TORI GUARINO – LOCAL SCHOLARSHIP FOR ADULT WOMEN
KELLY GUERRERO-FLORES – JEANNINE STETSON TRIBUTE STEM SCHOLARSHIP
VANESSA KINLEY – JANET MARTIN WELCH MEMORIAL STEM SCHOLARSHIP of the Southwest Florida Women Giving Together Giving Circle
LIANNA LARSON: – THE BLANCHE AND JOHN REBAR MEMORIAL STEM SCHOLARSHIP
KAYLA MIRANDA – LOCAL SCHOLARSHIP FOR ADULT WOMEN
SHARON SAINT-SURIN – JEANNINE STETSON TRIBUTE STEM SCHOLARSHIP
LILIANA SALAZAR-JUAREZ – FRIENDS OF BAYVIEW I STEM SCHOLARSHIP
JASMINE VEGA – VINCENT DIBIASI MEMORIAL SCHOLARSHIP FOR AN ADULT WOMAN
Read about the accomplishments of these wonderful women here: 2023 Scholarship Awards
The Foundation administers several scholarship funds that award tuition assistance to local women. Click this link for more information: Scholarships
The Foundation raises funds for scholarships by various means, including individual donations. If you are interested in supporting this effort, contributions may be made by clicking the Donate Now button or by check made payable to "Greater Naples AAUW Charitable Foundation, Inc." designated for the scholarship fund of your choice, and mailed to the Greater Naples AAUW Charitable Foundation, Inc., PO Box 9742, Naples, FL 34101. Donations designated for scholarships with no other designation will go into the scholarship fund selected by the Foundation Board on the recommendation of the Scholarship Committee.
We offer a one-time Named Scholarship Opportunity for a donation of just $2000. Click the link for more information: Named Scholarship Opportunity.
The Greater Naples AAUW Charitable Foundation, Inc. is a tax-exempt 501(c)(3) organization (EIN 59-3704754), regulated by the State of Florida Department of Agriculture & Consumer Services, Registration No. CH 13573. A COPY OF THE OFFICIAL REGISTRATION AND FINANCIAL INFORMA-TION MAY BE OBTAINED FROM THE DIVISION OF CONSUMER SERVICES BY CALLING TOLL-FREE WITHIN THE STATE OF FLORIDA (1-800-435- 7352). or clicking here. REGISTRATION DOES NOT IMPLY ENDORSEMENT, APPROVAL OR RECOMMENDATION BY THE STATE. Your contribution is tax-deductible to the extent allowed by law.
---