AAUW's Mission, Vision and Values
AAUW advances gender equality for women and girls through research, education, and advocacy.
The AAUW vision is equity for all.
AAUW Values: Nonpartisan: Fact-based; Integrity; Inclusion and Intersectionality. A nonpartisan, nonprofit organization, AAUW has more than 170,000 members and supporters across the United States, as well as 1,000 local branches and over 800 college and university partners. Throughout its history, AAUW members have examined and taken positions on the fundamental issues of the day – educational, social, economic, and political. AAUW Greater Naples Branch is one of the most active in the state of Florida, with an engaged membership of over 100 and growing.
---
PRESIDENT'S MESSAGE
Dear Members,
The sun will come out …… Tomorrow!!! Although we live in the land of sunshine and blue skies, the cloud of Covid-19 has loomed largely over us for the past twelve months. Yet, with the promise of vaccines being realized and the hope that we will be able to resume some "normalcy" in our lives, we are hopeful!!
So, too, we are seeing the progress of our efforts in the activities of our AAUW Greater Naples Branch. The monthly Zoom Branch meetings are well attended with about 30% of our members attending. And plenty of room for many more!!! Our final meeting of this year is scheduled for March 6th and will be held via Zoom. Please let one of us know if you need any help accessing the link (included in this newsletter) as we would like as many members to attend as possible.
Our Social Media Policy and Guidelines Committee is well on its way to performing the task of managing the plethora of information in that area and directing our attention to the information that is relevant to the multiple social media platforms that are in operation. The Greater Naples Branch is excited to be engaged in a wide variety of platforms: FaceBook, YouTube, and Instagram, just to name a few. We hope to bring more awareness to these platforms and use them in a coordinated manner to grow and diversify our membership and promote the work of our branch.
The STEAM Committee has literally pushed full speed ahead to deliver STEAM in a Box and a variety of wonderful videos, which can be viewed on our branch's YouTube channel, to enhance our 5th Grade girls' virtual experiences. Likewise, our Public Policy Committee has stayed abreast of the flurry of legislative activity taking place at the state and federal level that involves our AAUW priorities. We so appreciate the in-depth analysis of Janet Welch and Carol Light who help our members stay well-informed on crucial issues.
The Charitable Foundation has worked diligently to ensure that the Branch is able to continue to offer scholarships and to provide ongoing funding for our educational programs, which we hope to continue in the coming year.
Our branch has continued to focus on themes of leadership and lifelong learning, as we cultivate meaningful opportunities for our members to build on their unique capacity as women leaders, regardless of their age or stage in life. A fine example of this mission is our speaker on March 6, Suzi Weinert. Suzi's stories of bargain hunting in affluent areas as she traveled the country as a military wife and mother of five led her to a "third act" as a mystery writer. She is a member of the Mystery Writers of America and the Sisters in Crime. Her three books have now been developed into a series of 15 two-hour movies aired on Hallmark's Movie and Mysteries Channel. She has accomplished a great deal and we are anxious to hear from her.
And, as we enter the brave and vulnerable world of Difficult Conversations, we are hopeful that authentic and constructive discussions will foster positive, vital changes in our branch, our communities and our world. As we tackle the hard work required to really understand another person's lived experience, and truly embrace the fundamental meaning of inclusion, let us reflect on Audre Lorde's wisdom: "It is not our differences that divide us. It is our inability to recognize, accept and celebrate those differences." Let's do the work, accept and celebrate our differences, and bridge the divide.
Hoping to see you all on March 6th!
---
AAUW Greater Naples Branch In The News
2021 Scholarship for a Woman In STEM Field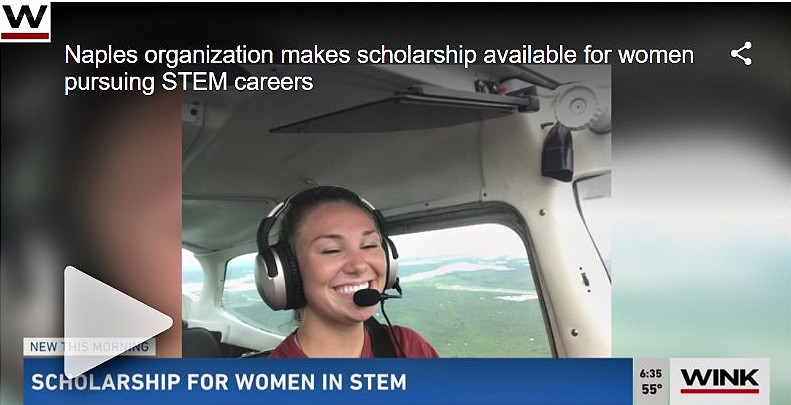 ---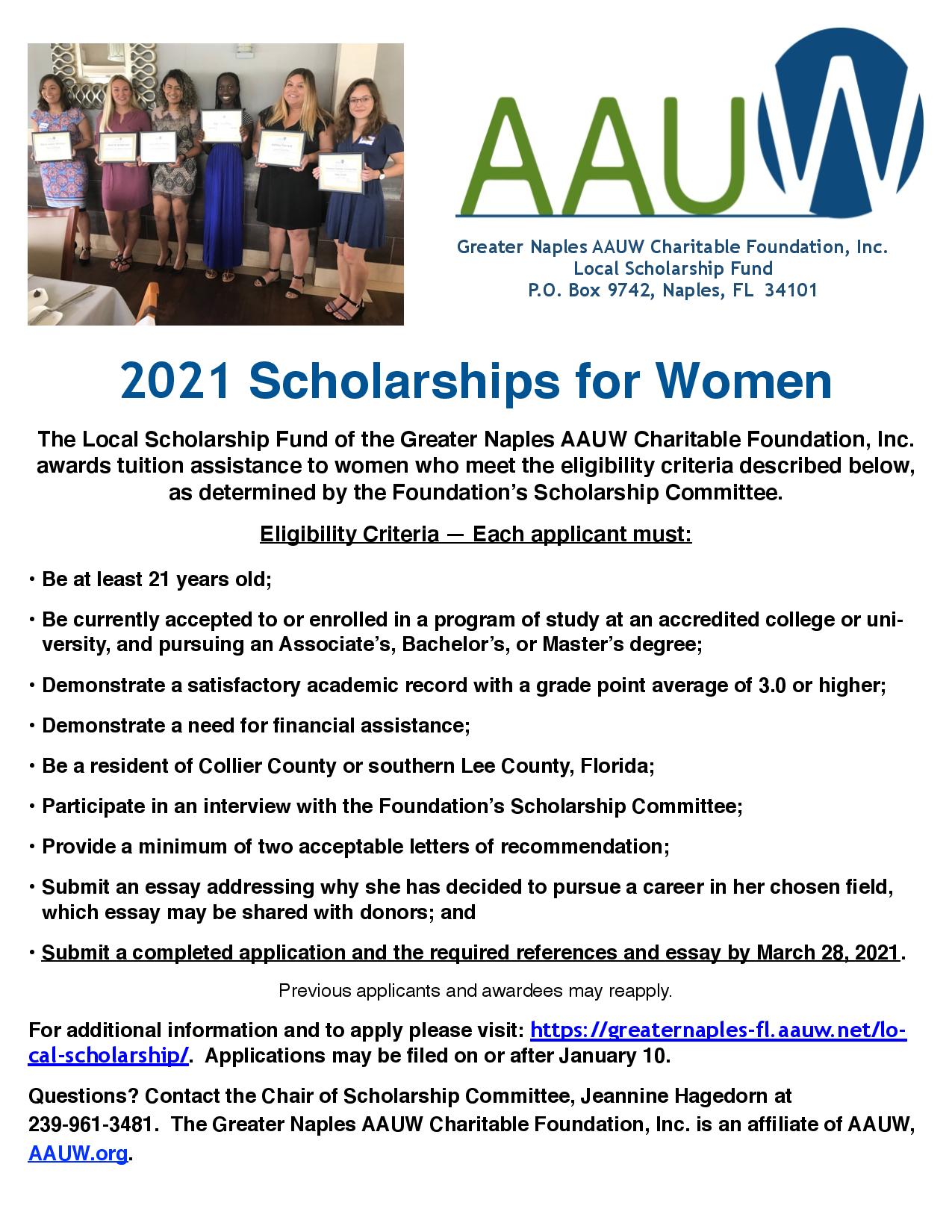 ---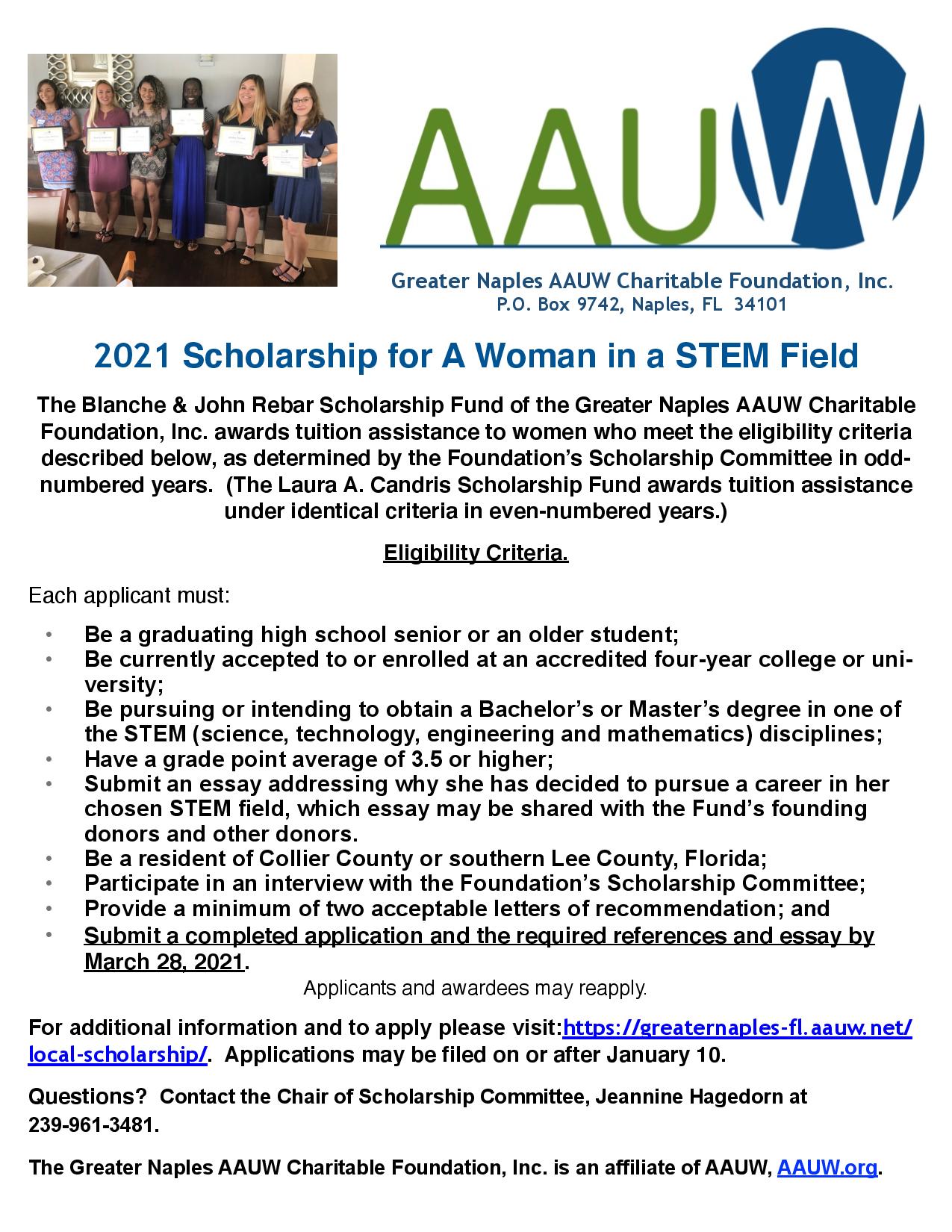 ---
GENDER PAY GAP WEBINAR
Women in our country continue to earn an average of 82 cents on the dollar earned by white males. Click on the link to listen to a recorded discussion of this dilemma with Dr. Sandra Pavelka of Florida Gulf Coast University and Kelly Lyons Davis, Esq., of Quarles and Brady's Naples, Florida office. The discussion was moderated by Catherine Hackney, Branch member and Foundation president. This webinar was presented by the Greater Naples AAUW Charitable Foundation, Inc. on November 10, 2020
Webinar: Why does the Gender Pay Gap Persist
---