AAUW's Mission, Vision and Values
AAUW advances gender equality for women and girls through research, education, and advocacy.
The AAUW vision is equity for all.
AAUW Values: Nonpartisan: Fact-based; Integrity; Inclusion and Intersectionality. A nonpartisan, nonprofit organization, AAUW has more than 170,000 members and supporters across the United States, as well as 1,000 local branches and over 800 college and university partners. Throughout its history, AAUW members have examined and taken positions on the fundamental issues of the day – educational, social, economic, and political. AAUW Greater Naples Branch is one of the most active in the state of Florida, with an engaged membership of over 100 and growing.
---
The members of our AAUW Greater Naples Branch are keeping in our hearts our Members, Families, Neighbors, Friends, and Fellow Floridians who endured the damage and losses that resulted from Hurricane Ian.
---
President's Message
A New Year …. So many opportunities to advance our mission of Equity for all Women & Girls through the American Association of University Women!!
With our focus of Diversity, Equity, and Inclusion, we welcome all members and future
members to accompany us on this journey.
Beginning in January there are many events you won't want to miss:
January 7 – The first Branch Meeting of 2023 will be a "Cavalcade of Events"
Bring a guest, chat with our leaders, and find out just what you can do
as a member of the Greater Naples Branch AAUW
9:30-10:00 Gathering time and 10:00-12:00 Business Meeting
Collier County Education Association
6710 Lone Oak Blvd., Naples, Florida 34109
January 28 – STEAM Assembly Day
February 2 – STEAM Delivery Day
VOLUNTEERS ARE NEEDED – Learn more about STEAM at our January Cavalcade!
March – Diversity, Equity, and Inclusion – how are we addressing this very important
emphasis of AAUW? Your suggestions will be welcome.
Reading Is Fun will resume providing books to students in two Collier County Schools.
Find out how to participate in this very rewarding endeavor which is supported by the Janet Martin Welch Reading Is Fun! Sustaining Fund.
Start Smart – how we provide college students with a chance to learn successful salary negotiation strategies…learn about our workshops.
April 1 – Scholarship Luncheon – who qualifies for a scholarship? How are recipients
chosen? What are the funding sources?
Special Interest Groups – What are the choices? Whom should I contact?
Tours and Talks – What exciting opportunities are being planned?
And many more chances to participate in Branch activities!!!
Be sure that your New Year's resolution includes your presence at our January meeting.
Your continued support is essential, and most appreciated!!
See you on January 7!!
Sincerely,
Jacky Territo, President Greater Naples Branch
---

Scholarships Available!
The Greater Naples AAUW Charitable Foundation, Inc. has scholarships available. The Foundation administers several scholarship funds that award tuition assistance to local women who meet the Scholarship Eligibility Criteria, as determined by the Scholarship Committee. Awards vary but are typically $2000. The Eligibility Criteria and application form are posted on the Scholarship webpage https://greaternaples-fl.aauw.net/scholarships/.
Click for brochures on each type of scholarship:
The application deadline is February 28, 2023.
---
STEAM Girls Count 2022 A Huge Success!
The AAUW Greater Naples Branch STEAM Girls Count program is designed to inspire girls to pursue education and careers in science, technology, engineering and mathematics and to teach them that the arts are part of, and not apart from STEM.
The 25th annual STEAM Girls Count program under the leadership of Program Chair Charmaine Klein broke new records yet again, with 249 local fifth-grade girls served. 232 fifth-grade girls at Collier County Public Schools ("CCPS") were served, together with 17 more at New Horizons. The girls received two KiwiCo STEM project kits vetted by Judith MacGregor and CCPS, the book, Girls Think of Everything, signed by author Catherine Thimmish, safety goggles, links to eight professional videos of local women in STEAM careers, plus one of a current FGCU student pursuing a STEM degree, biographies of the video presenters, guidelines and feedback forms, and a STEAM Girls Count bookmark, all packed into totes bearing FGCU's 25th-anniversary logo! Some lucky girls also received books written and signed by author Dr. Ellen Prager, Ocean Scientist.
Here are some of the inspiring comments from the girls:
"I learned that science, technology, engineering, art and math are a huge role for jobs and everyday life."
"Don't let people tell you you can't, and follow your dreams."
"I learned to not give up and keep trying."
"Keep trying even when you feel like you're going to run out of STEAM."
"I learned from the book that accidents can turn into great inventions."
"I have learned that everybody can do something great."
"STEAM is more than just a fun day at school. STEAM is something that can help in the real world."
"I got to see women in my community doing awesome things that inspired me."
"I am very glad that I got to participate in this extraordinary program!"
"The experiments were so fun! It had hands on and you could enjoy the final result."
"It was fascinating to read about the inspiring female inventors, especially the younger females who were about my age when they invented something and came up with a creative idea."
"If you make a mistake, something good can come of it!"
"I learned that you can do and think of anything by using STEAM, and that girls can achieve and do anything"
"Girls can do anything anyone can do, don't let people tell you can't, and follow your dreams."
"I learned that girls can do a lot of things. Like engineering, science, arts, math, and tech. This whole experience is so inspirational and wonderful."
"Girls can do whatever they want if they really want it. Girls are just as great as boys and can accomplish the same, gender doesn't matter."
Many thanks to the STEAM 2022 Committee: Charmaine Klein, Nancy Beights, Laura Candris, Susan Coman, Judith MacGregor, Donna Walker, Cathy Hackney, and Pallas Diaz.
We are deeply grateful to our member volunteers and to the generous donors for this program: Recurrent lead donor, Arthrex; Platinum Sponsor Martin Kurtz/Charles Schwab Naples Branch; Gold Sponsor FGCU; and Silver Sponsor Charmaine Klein/Edward Jones. We are gratified to welcome back in-kind donors, Clarion Books (HMH Books & Media/HarperCollins Publishers), Collier County Public Schools, and Susan Mehas & John R. Wood Properties.
Thank you for investing in the futures of local girls!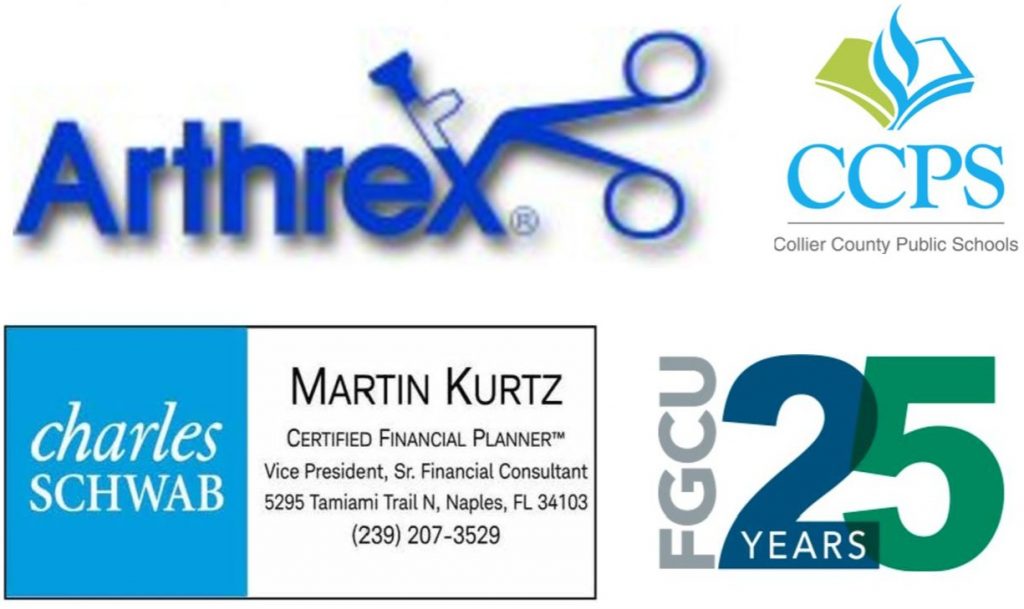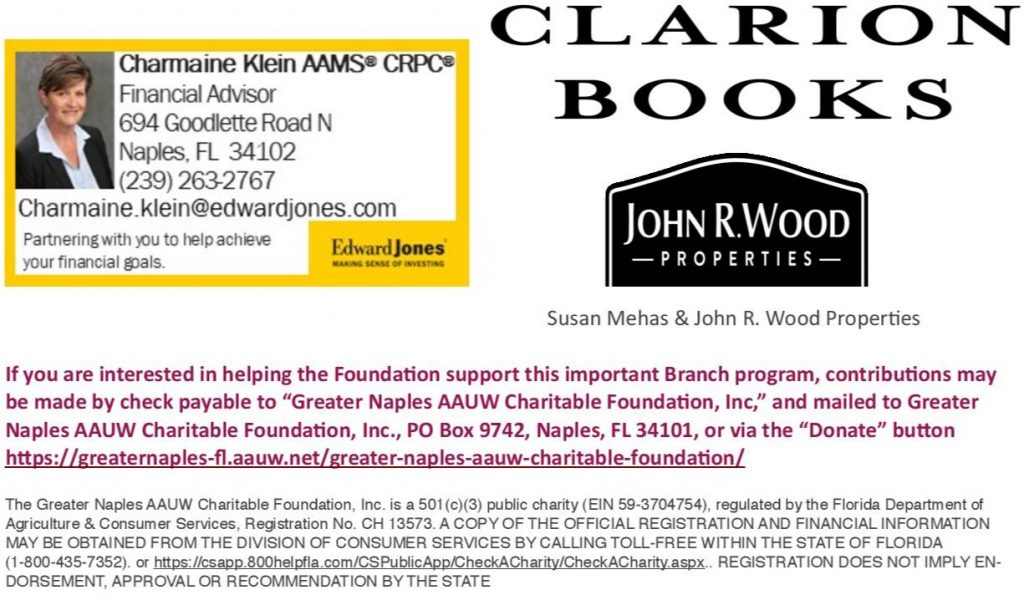 Click here read more
---

The AAUW Greater Naples Branch and the Greater Naples AAUW Charitable Foundation, Inc. Congratulate the 2022 Scholarship Recipients!
Since its creation by the AAUW Greater Naples Branch in 2001, the Greater Naples AAUW Charitable Foundation, Inc. ("Foundation") has annually awarded academic scholarships to deserving local women upon the recommendations of the Scholarship Committee. The amazing women awarded scholarships in 2022 are:
Kamili Henry—receiving a McMahon Foundation Scholarship
Lianna Larson—receiving the Laura A. Candris STEM Scholarship.
Brianna Patino—receiving a STEM scholarship
Stephanie Roberts—receiving a STEM scholarship
Camila Rojas—receiving a STEM scholarship
Altanice Valentine—receiving a McMahon Foundation Scholarship for Adult Women
Melissa Wilson—receiving the Rose DiBiasi Tribute Scholarship for Adult Women
Read about the accomplishments of these wonderful women here: 2022 Scholarship Awards
The Foundation administers several scholarship funds that award tuition assistance to local women. Click the link for more information: Local Scholarships
The Foundation raises funds for scholarships by various means, including individual donations. If you are interested in supporting this effort, contributions may be made by clicking the Donate Now button or by check made payable to "Greater Naples AAUW Charitable Foundation, Inc." designated for the scholarship fund of your choice, and mailed to the Greater Naples AAUW Charitable Foundation, Inc., PO Box 9742, Naples, FL 34101.
We offer a one-time Named Scholarship Opportunity. Click the link for more information: Named Scholarship Opportunity.
The Greater Naples AAUW Charitable Foundation, Inc. is a tax-exempt 501(c)(3) organization (EIN 59-3704754), regulated by the state of Florida Department of Agriculture & Consumer Services, Registration No. CH 13573. A COPY OF THE OFFICIAL REGISTRATION AND FINANCIAL INFORMA-TION MAY BE OBTAINED FROM THE DIVISION OF CONSUMER SERVICES BY CALLING TOLL-FREE WITHIN THE STATE OF FLORIDA (1-800-435- 7352). or clicking here. REGISTRATION DOES NOT IMPLY ENDORSEMENT, APPROVAL OR RECOMMENDATION BY THE STATE. Your contribution is tax-deductible to the extent allowed by law.
---