AAUW's Mission, Vision and Values
AAUW advances gender equality for women and girls through research, education, and advocacy.
The AAUW vision is equity for all.
AAUW Values: Nonpartisan: Fact-based; Integrity; Inclusion and Intersectionality. A nonpartisan, nonprofit organization, AAUW has more than 170,000 members and supporters across the United States, as well as 1,000 local branches and over 800 college and university partners. Throughout its history, AAUW members have examined and taken positions on the fundamental issues of the day – educational, social, economic, and political. AAUW Greater Naples Branch is one of the most active in the state of Florida, with an engaged membership of over 100 and growing.
---
PRESIDENT'S MESSAGE
Dear Fellow AAUW Members,
As we reflect on the blessings and the lessons of 2020, we are thankful for the help and support of the AAUW Greater Naples Board Members who have made the start of our 2020-21 season a success.
Navigating the wonderful world of technology would not have been nearly as smooth a process without Nancy Chism's guidance and expertise to help us conduct our first virtual Zoom Branch Meeting in September. Lucy Williams, our Branch Secretary, conducted the meeting with grace and confidence and with twenty-one members in attendance, the meeting was a success!!
In November, we successfully welcomed 27 members to our Zoom room and conducted our second virtual Branch Meeting. Of course, the occasion became even more memorable when the President-elect of the United States was announced mid-meeting!
Our Branch meetings going forward will continue to be virtual until further notice. As we have learned at the virtual meetings so far, this necessary physical "social distancing" does not mean "emotional distancing" – we can still see, talk and connect with one another using available technology tools, such as Zoom. Our virtual meetings will help us to continue our work and check in with one another during this unprecedented and sometimes isolating time. Please let one of us know if you are aware of any member who is unable to utilize technology so that we can help them gain access to our virtual meetings. We want to help every branch member participate if it is possible!
Karen Dempsey and Jacky Territo
---
Items of Interest
January 17 Voter Rights Documentary "Rigged"
The Public Policy Committee has arranged with American Issues Initiative to show and discuss "Rigged: The Voter Suppression Playbook" on Sunday, January 17, from 6:00 PM to 8:00 PM via Zoom Webinar. The 72-minute film will be followed by Q and A, moderated by Carol Light and Janet Welch. One of the film's two producers will be present to answer questions. Janet and Carol will also provide an introduction and closing for the program.
To register for the event, go to the web page: https://www.eventbrite.com/e/132988613523
We can have a maximum audience of 500 people, so please share this link and information with your friends!
---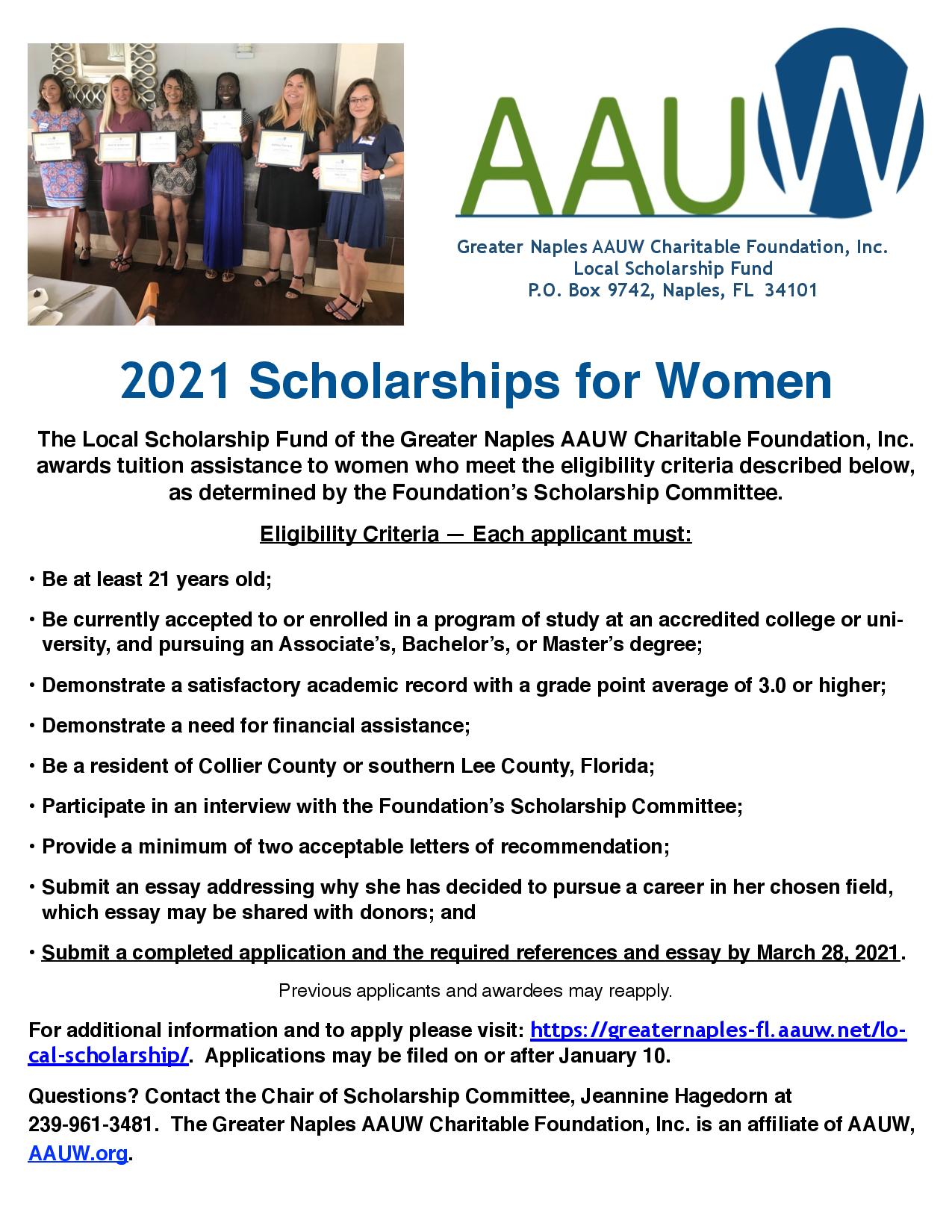 ---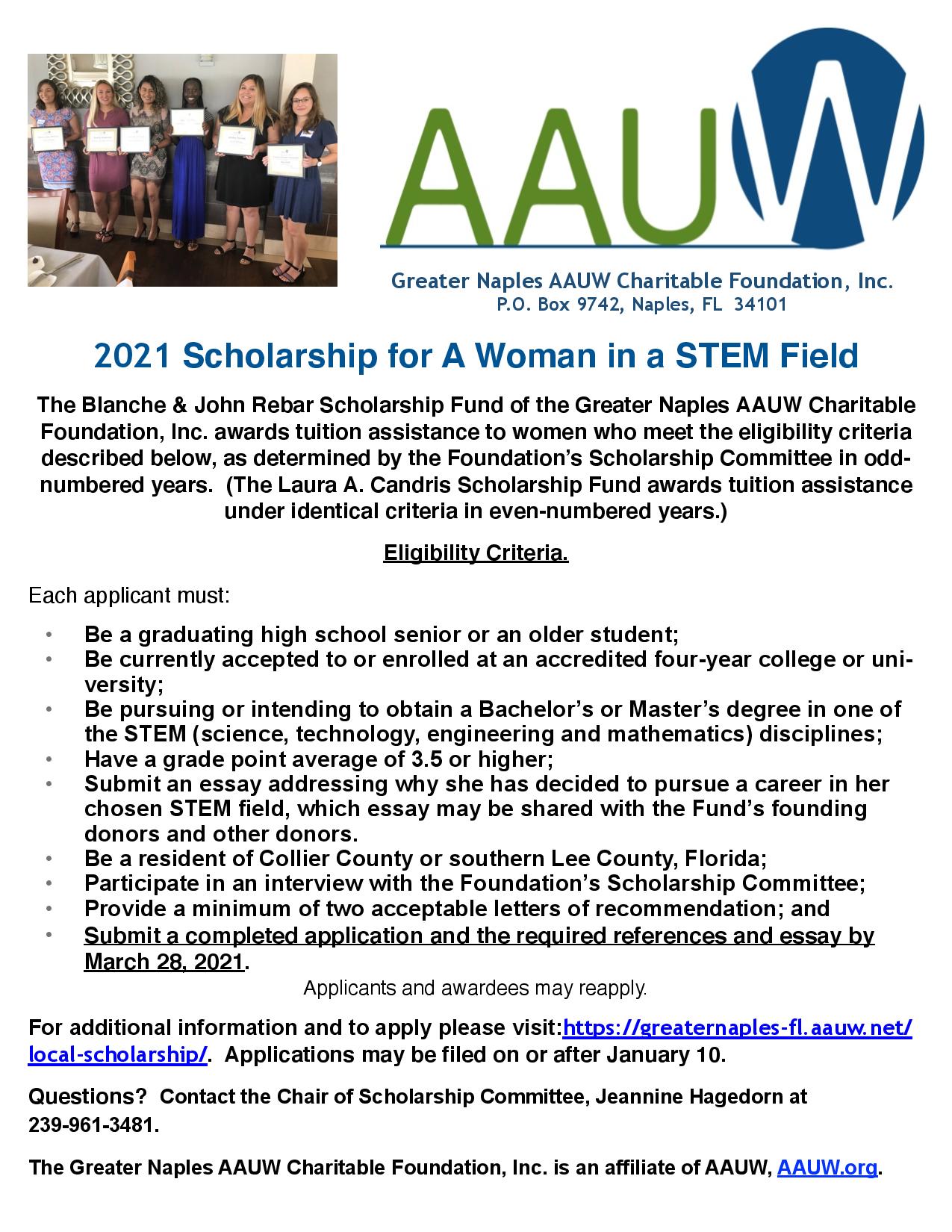 ---
GENDER PAY GAP WEBINAR
Women in our country continue to earn an average of 82 cents on the dollar earned by white males. Click on the link to listen to a recorded discussion of this dilemma with Dr. Sandra Pavelka of Florida Gulf Coast University and Kelly Lyons Davis, Esq., of Quarles and Brady's Naples, Florida office. The discussion was moderated by Catherine Hackney, Branch member and Foundation president. This webinar was presented by the Greater Naples AAUW Charitable Foundation, Inc. on November 10, 2020
Webinar: Why does the Gender Pay Gap Persist
---