---
Greater Naples Branch AAUW
Public Policy – January 2022
---
ACT
Attend the live-streamed Collier Freedom "Rally for Truth and Democracy." Speakers include Florida Agriculture Commissioner and candidate for Governor Nikki Fried and Texas State Representative Jasmine Crockett.
When: Saturday, January 15, 2022 5:00 – 6:00 p.m.
Where: Register on Eventbrite (free) at https://www.eventbrite.com/e/truth- democracy-streamed-online-tickets-168181271711
Contact our senators and your legislator to continue the expanded Child Tax Credit, which expired in December after Congress failed to extend it. This affects the families of more than 23 million children and is addressed with other key legislation in the proposed Build Back Better bill.

Become a 2-Minute Activist at aauw.org/act/two-minute-activist/.
LEARN
Learn about key issues in Florida by attending AAUW-Florida's Lobby Days noon webinars, January 18-21. Register at https://bit.ly/SCAAAUWFL.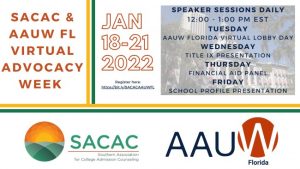 ENGAGE
Want to voice your support for AAUW legislative priorities to our local and state legislators? Let's engage at the grassroots level and make our voices heard. Sign up to be a local AAUW lobbyist and we'll learn together. Contact Carol Light if you'd like to be on this new Public Policy team.
Know of any local events that offer our members a chance to engage with the community related to our Public Policy issues? Please send information to Carol Light so that we may put these on our calendar or include in our newsletter or a News Bite, if appropriate.
AAUW GNB's Public Policy Committee promotes the public policy agenda of our national, state, and local organizations. The Committee members are both pro-active and responsive to issues that affect the advancement and well-being of women and girls. Members are kept informed of matters of public concern via Washington Update, Action Alerts/The Two Minute Activist from the national organization, and e-mails from the Co-Chairs of the GNB Public Policy Committee.
The following are specific areas of interest where members take the public policy lead for the local organization:
AAUW National & State Liaison
Local Organizations Liaison
Collier County Public Schools Liaison
PUBLIC POLICY AGENDA
At the heart of AAUW is its promotion of equity for women and girls through pro-female legislation, a strong public school system and a nurturing community.
We Support Constitutional Rights and Civil Liberties including:
a woman's right to make reproductive choices
the separation of church and state in all public institutions
the election/appointment of women to public offices, boards and
commissions.
We Support a strong Public School System that:
welcomes diversity in its students and faculty
teaches and exercises tolerance
offers females equal opportunities in academics and athletics, including science, technology, engineering, arts and mathematics
vigorously enforces Title IX and all other civil rights laws pertaining to
education
provides adequate and equitable funding for quality public education
for all students, striving for quality in faculty and curriculum
provides for comprehensive sex education
requires nonpublic elementary and secondary and charter schools receiving public aid to adhere to the same civil rights and accountability standards required of other public schools
We Support a Community that:
provides opportunities for advancement and a safe environment for all citizens
promotes economic self-sufficiency for women and equal wages for the same or similar work
provides accessible and affordable health care for women and children
protects its environmental resources
Additional Contacts and Sources for information:
The state AAUW office at: http://florida-aauw.org
The national AAUW office at: http://www.aauw.org/ (follow the "click action" link)
Local government agencies:
• www.colliergov.net
• www.collierschools.com
• www.leegov.com
• www.leeschools.net
Florida state government at:
• http://myflorida.com
• www.myfloridahouse.com
• http://flsenate.gov
U.S. federal government at:
• www.house.gov
• www.senate.go